About L. A. Gates Company
We Live Here, We Work Here, We Support Here
Civil Engineering
We have designed a wide variety of over 50 bridge & highway projects for the WV Division of Highways.
Oil, Gas, and Energy
We meet our customer's needs with a cost-effective approach and an understanding of environmental conservation.
Municipal Engineering Services
Structural Engineering and Site Design, Surveying, Environmental/Permitting, Operation and Maintenance Support, Sanitary Sewer, and much more.
Mining Engineering
Our findings are presented on a suitable map with the major mining blocks in the principal coal seams identified and depicted in tabular form for ease of understanding.
L.A. Gates Company was established in Beckley, West Virginia, in January 1985, to provide civil and mining engineering services. Our company continues a tradition of dedicated and continuous service to the mining industry which spans three generations of the Gates family. It began in 1920 when Lauren A. Gates joined Merrill-Ferguson Engineering Company (started in 1905 as E.M. Merrill Engineering Company).
In 1920 Lauren A. Gates established a reputation of providing dependable high quality consulting services to the coal industry in southern West Virginia. After World War II, his son, Leslie C. Gates, joined the firm and continued the Gates philosophy of supplying professional services on time at a reasonable cost. In 1961 the name of the firm was changed to Gates Engineering Company and was incorporated in 1962.
Professional services were expanded to include civil engineering and architectural services both functioning independently, but in addition, provided adjunct services to the mining division in the development of coal properties. In 1972, L.A. Gates, Lauren's grandson, joined Gates Engineering Company, Inc. enhancing the Gates tradition of service. In 1976, services were expanded internationally with a branch office in Sydney, Australia. In 1980, Gates Engineering Company, Inc. became a wholly-owned subsidiary of Ebasco Services, Incorporated, a company started by Thomas A. Edison in 1905. In September 1985, Ebasco dissolved the subsidiary. L.A. Gates Company was formed in 1985. The rest of Ebasco went out of business in 1994.
Today, L.A. Gates Company continues to offer the same professional service which started over 100 years ago.
Over 35 Years of Excellence in Engineering
L.A. Gates Company has been providing engineering services to public and private clients since 1985, but our roots go back to 1905. We are a transportation and energy engineering company with a long history in West Virginia's mining industry and with decades of experience in the transportation and natural gas industries. Our team combines numerous skills from a wide range of engineering disciplines. We've planned, administered, and consulted on a large number of projects and use that experience to complete each new project in the most efficient way possible.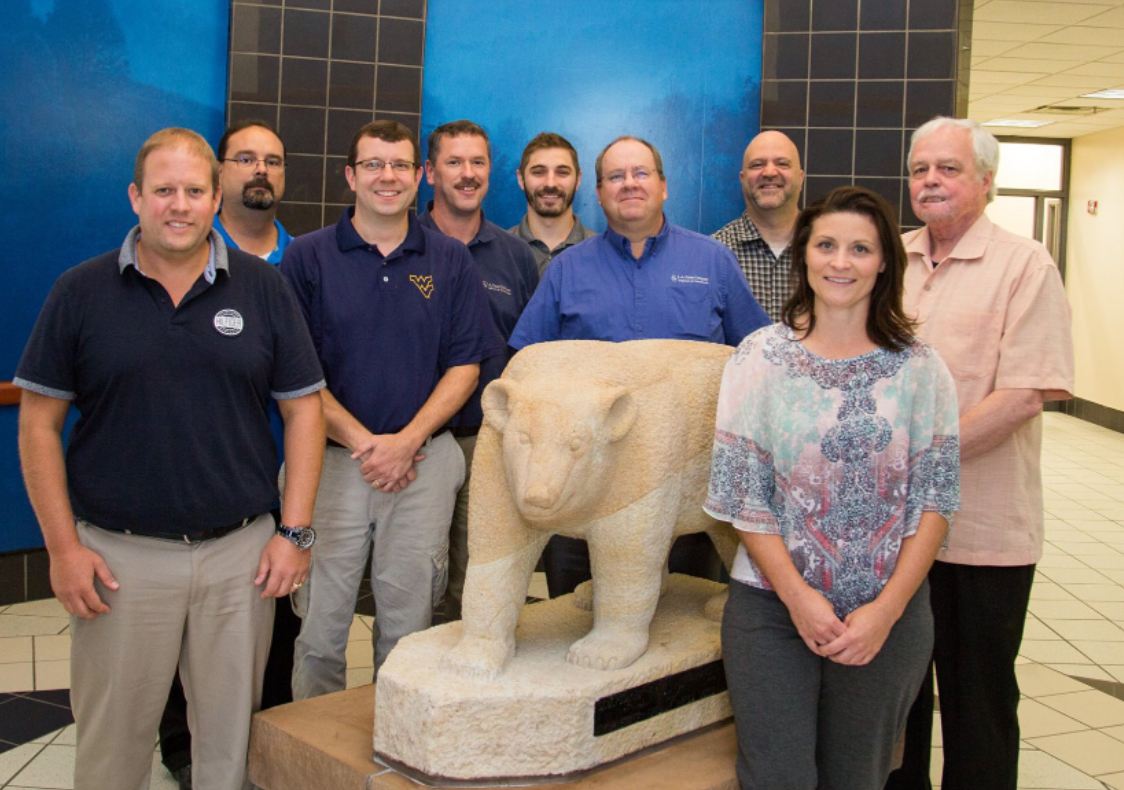 L. A. Gates Company has been recognized on numerous occasions for excellence in engineering by the West Virginia Department of Transportation Division of Highways. Our team has received rewards for multiple projects in the categories of large and small bridge and roadway design for highways and interstate roads across the state of West Virginia.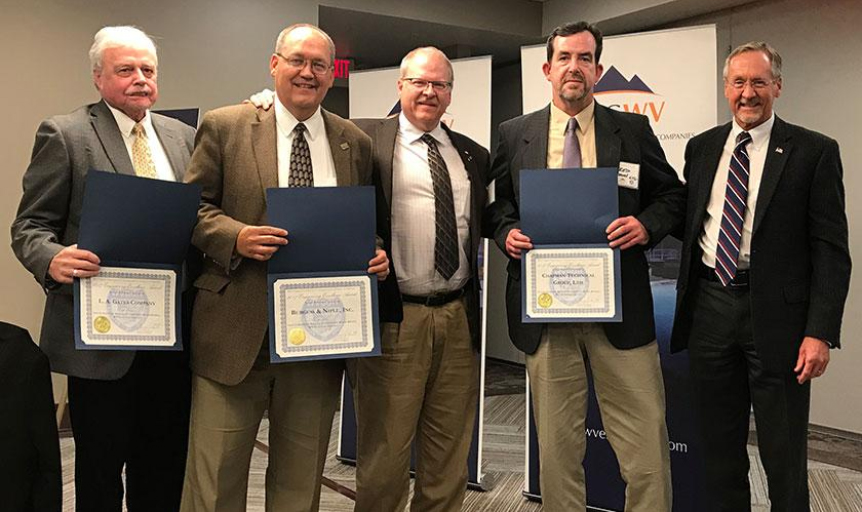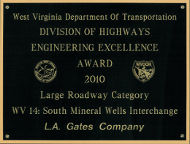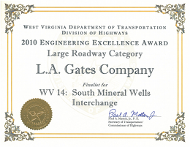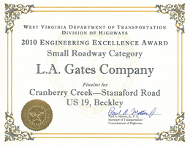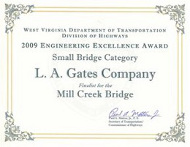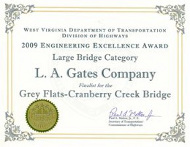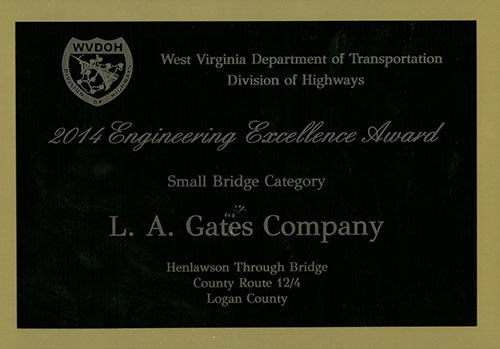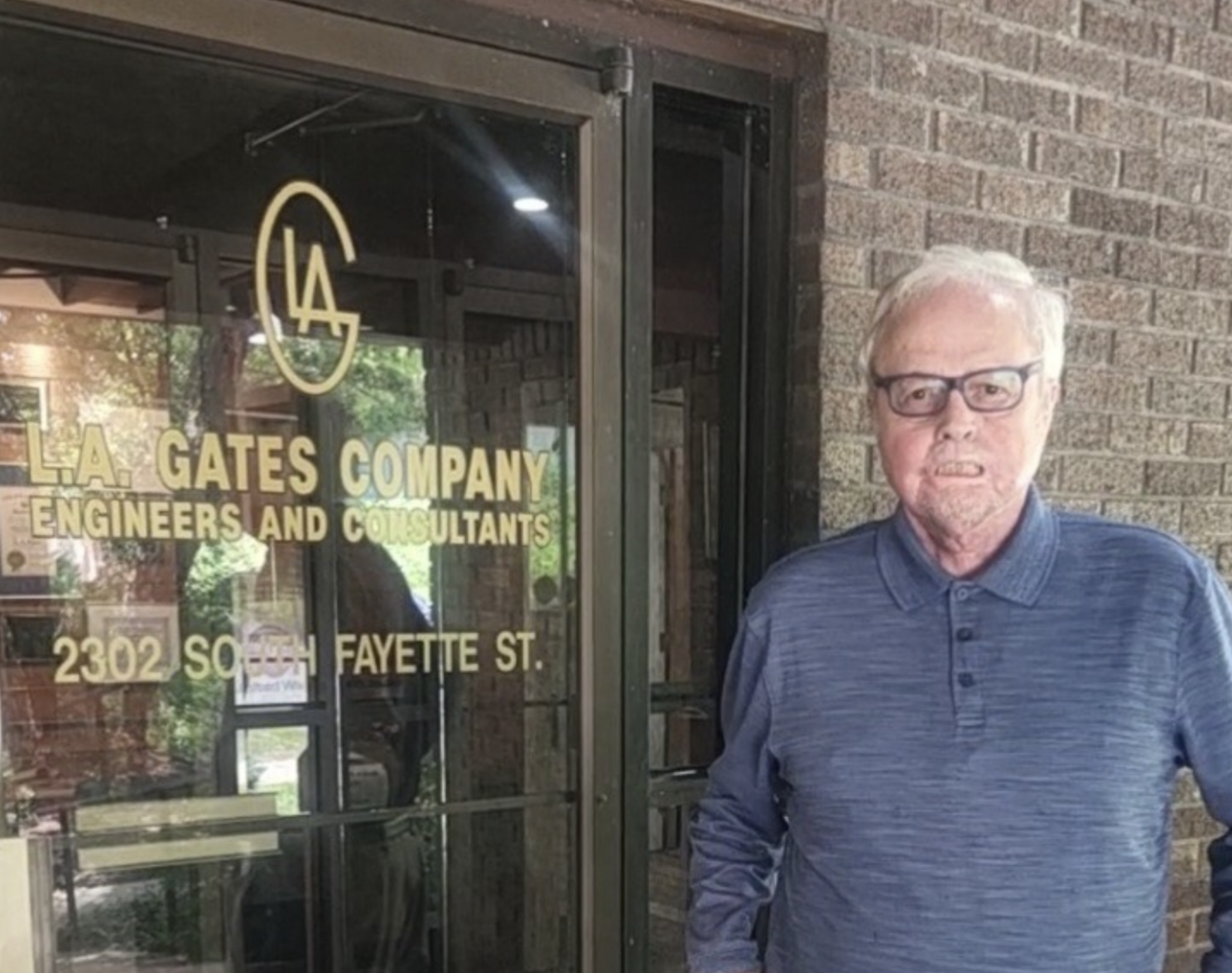 L. A. Gates, P.E. & P.S., President and CEO
Established L. A. Gates Company (1984) to provide professional engineering services of the highest ethical caliber to the local and State community. Responsible for overall technical review of all Gates' projects, including the design of roads, collection ponds, dams, bridges, water systems, site developments, and other structures for the mining and civil industry, government, and commercial clients.
During the past twenty years, Mr. Gates has been involved with several significant projects in the state of West Virginia from conception to development, then completion of the project. Recently Gates' firm was instrumental in completing the design and construction monitoring of the $124M Clay Center in Charleston, WV. The Clay Center is a performing arts center, science museum, and fine art gallery. This project required the overall supervision of 18 sub-consultants.
Mr. Gates works on all contractual matters with the West Virginia Department of Transportation, Division of Highways. Mr. Gates has more than 40 years of experience in the administration and management of engineering projects and is a licensed professional engineer in West Virginia and Colorado.
Brian M. Bair, P.E. and VP
Brian M. Bair, P.E., is the lead Structural Engineer and will provide the structural design expertise as well as the project management for the Structures group. Brian has over 14 years of experience almost exclusively on the design of 20 WVDOH bridge projects. In addition to the structural design, Brian is also experienced in bridge hydraulics, HEC-RAS modeling, USCOE 404 permitting, and causeway analysis. Brian is a graduate of West Virginia Institute of Technology and is a licensed professional engineer in West Virginia.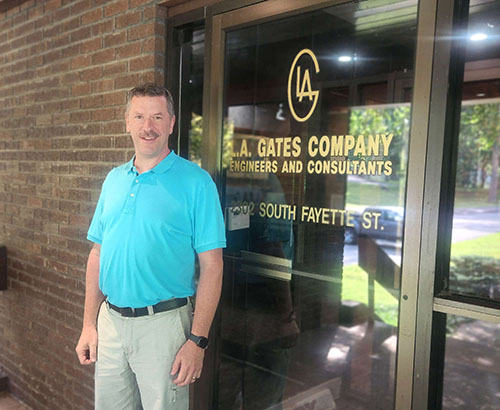 Gary Keaton P.E. and VP
As Vice President of Natural Gas, Gary is responsible for the overall management of natural gas projects for L.A. Gates Company. Gary has over 22 years of experience in the oil and gas, construction, highway, and environmental engineering industry.
Gary has extensive experience in the design, permitting, management, and monitoring of natural gas and highway construction projects. Gary is also an industry expert in the field of cost estimating and risk analysis, with over $8 billion worth of capital cost estimating experience covering hundreds of projects from the Gulf of Mexico to the New England states, with an emphasis on natural gas. Gary has also engineered and designed numerous natural gas pipeline facilities.
Past experience includes the following positions: Field Engineer, Environmental Assurance Specialist, Construction Implementation Specialist, Chief Inspector, Cost Engineer, Civil Engineer, and Senior Mechanical Design Engineer.
Jay Cantley

,

PE, PS. and VP
Leading the roadway design team will be Jay Cantley. Jay is the Executive Vice President and Chief Operating Officer of L.A. Gates Company. Throughout his career, Jay has managed over 60 WVDOH Highway/Bridge projects. Jay and his staff have been responsible for all aspects of roadway design including the right of way plan development, storm drainage design, temporary traffic control plans, and signing and pavement markings on the over $160,000,000 worth of roadway construction that they have designed. Some of the more notable highway projects include the Coalfields Expressway and East Beckley Bypass in Raleigh County and the Mileground – Airport Road in Monongalia County.  Jay and his staff are currently working on five miles of three-lane improvement of the Z-Way project in Raleigh County.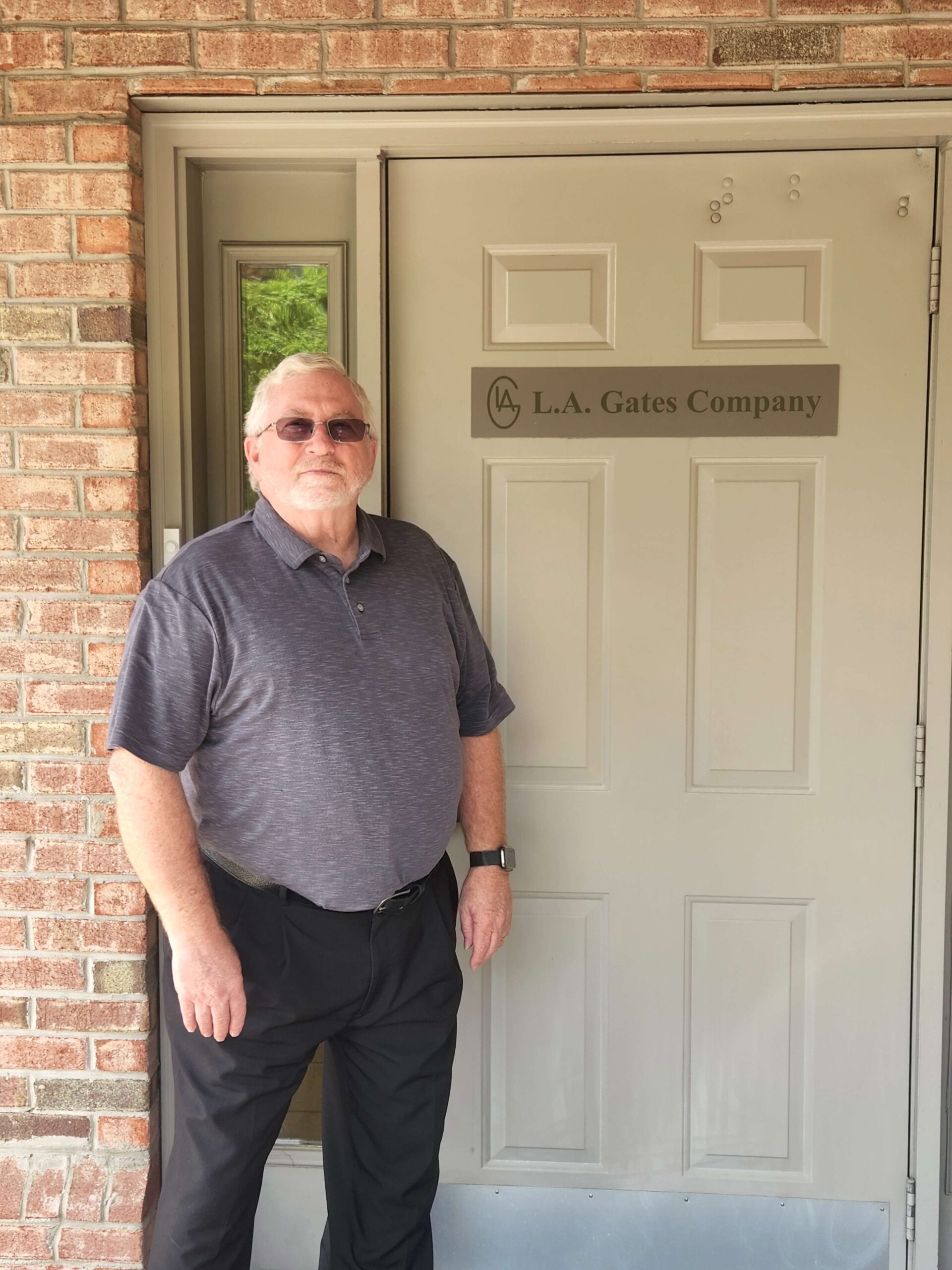 Don Crusan-VP
Graduate of Elmira College in Elmira, New York in 1984. Elmira College is a private, coeducational, Phi Beta Kappa college located in Elmira, New York. Mr. Crusan was born in Pennsylvania but moved to West Virginia in 1986 working for Columbia Gas Company. He decided to join the L.A. Gates firm 10 years ago, serving as the Vice President at the Hurricane Office.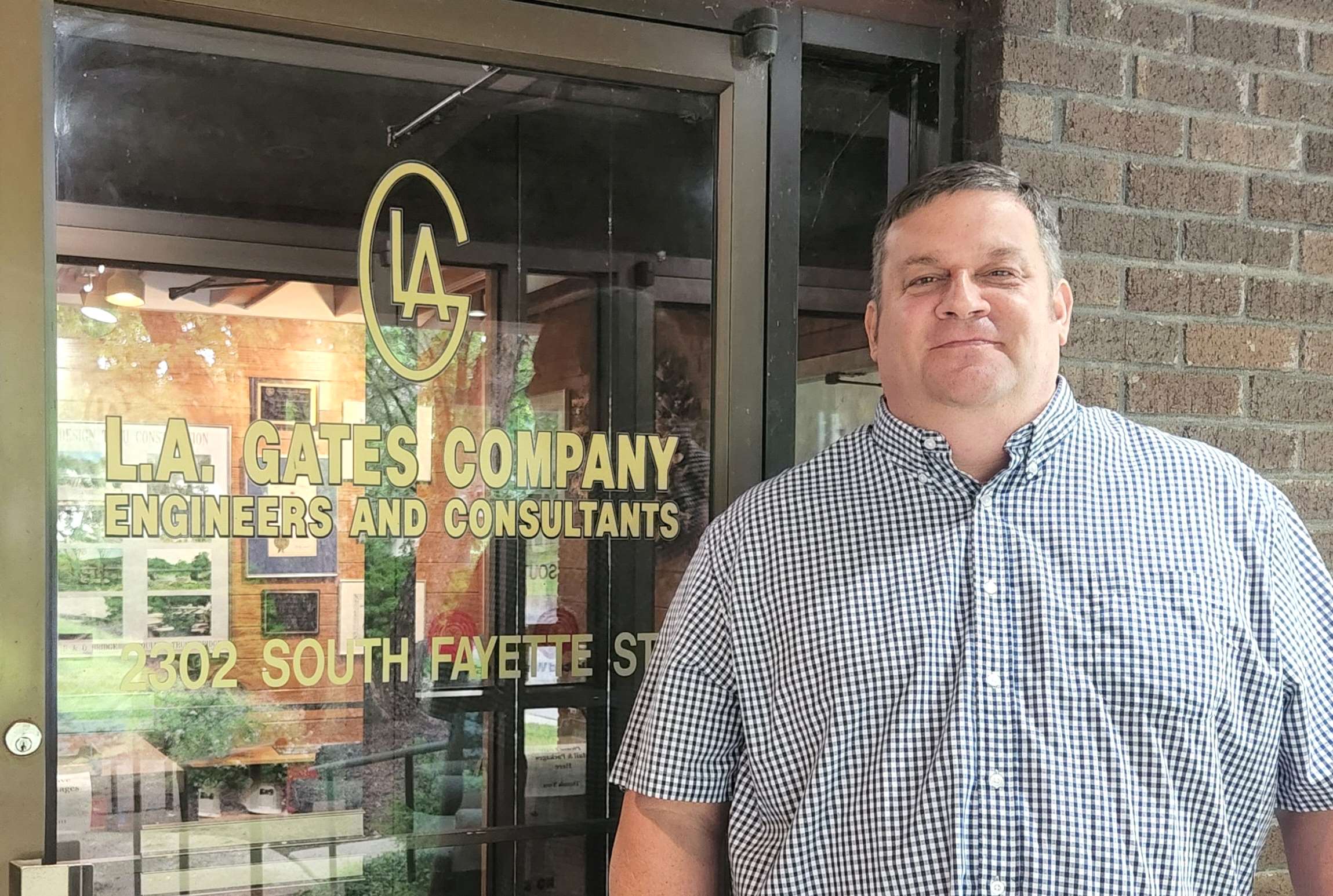 Noel Scott Riffe-VP
Served as a Vice President of Finance and Administration. He graduated in 1990 from Marshall University gaining a degree in Business specializing in Finance. He has worked for the L.A. Gates company for 32 years.
"We live here, we work here, we support here."